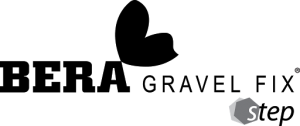 What is BERA Gravel Fix® Step?
BERA Gravel Fix® Step is a very simple way to create your individual section of stabilised gravel. They come in handy 40 x 80 cm kits complete with gravel stabilisation, geo-textile fitted, border frame fitted and 4 pins. Just sand and gravel are required and off you go. Fully draining and stable. No more wet feet!
Creativity guaranteed!
Gravel comes in many attractive colours and sizes, pebbles or aggregate. All can be used as long as the gravel size is between 3 and 16 mm! Let your creativity guide you in the layout of your own garden and beyond…
Dry and non-slip!
The BERA Gravel Fix® Step sections ensure dry feet as the porous gravel stabilisation system allows rainwater to drain immediately. No algae found on traditional stepping stones or tiles. Seedlings cannot sprout due to the anti-weed geotextile base. Use aggregate for maximum non-slip effect.
Where to create your Gravel "Stepping Stones"?
In your lawn or borders, ensuring you remain dry and clean whilst gardening
Along the outside perimeter of your house, no more dirty outer walls.
Creating a terrace on which furniture can be placed.
Under the water tap outside the house.
Around the grave at the cemetery for easy access and maintenance
In mosaic or chess board arrangement with grass or stone
Only 3 steps for your gravel "Stepping Stones"!
Remove 10 cm of soil or grass of the desired 40 x 80 cm area.
Fill the void with 5 cm of sand and compact it. Lay the "BERA Gravel Fix® Step" and fix it with the 4 pins.
Fill the secured step with approx 25 kg of gravel (any size between 3 – 16 mm). Ensure that the gravel is spread evenly, across and covering the entire step.
READY
TECHNICAL SPECIFICATIONS*
GENERAL
Material
100% recycled or pure Polypropylene (recyclable)
Manufacturing location
European Union
Colour
White, grey or black
Cell structure
Hexagonal
Membrane
Geo-textile 30 g/m²
UV and frost
UV and frost resistant
PHYSICAL DATA
Standard sheet size L x W x H
400 x 790 x 45 mm (0.3 m²)
Weight per piece
0.9 kg
Sand required for 5 cm
25 kg
Gravel required
25 kg
*) * All data is subject to change without prior notice by the manufacturer BERA Gravel Fix®
Step is frequently used on light slopes. Specific requirements on the application depend on
the circumstances on site. Please contact the manufacturer or the dealer for further advise.
Environmental and Engineering Excellence
BERA Gravel Fix® Step is manufactured in the European Union under stringent Quality and Environmental Control standards, including REACH (EC 1907/2006). The use of recycled raw materials and well developed infrastructure to minimize our delivery carbon footprint, underline our corporate vision in providing environmentally sustainable solutions.
BERA Gravel Fix® Step, a sustainable product:
Manufactured in Europe using renewable energy sources
Fully recyclable after end of life-cycle
Select 100% recycled raw materials at no extra cost
Safety according REACH (EC1907/2006)
UV and frost resistant
No glue, only thermally welded connections
Social awareness policy
DOWNLOAD
Select language below to download catalogue.